---
There is freedom waiting for you, on the breeze of the sky and you ask:
What if I fall? 
- Oh but my darling,
What if you fly?
(Erin Hanson)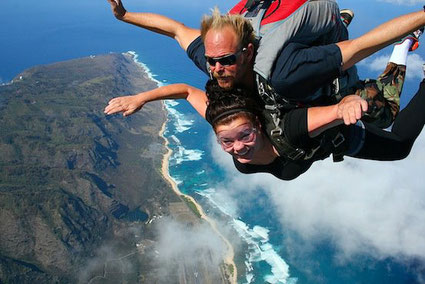 ---
Writing an article about a trip I took almost six years ago is quite a challenge. It won't be as detailed as the more recent ones but I still give my best :). I haven't been as good at taking pictures either so they are not very high quality. Everyone started at some point I'd say :).
When I worked as a professional AuPair in San Francisco, doing a trip to Hawaii has been a chance I had to take. Flights were cheap, didn't take too long and I didn't need an extra visa. I knew I would never be able or rich enough to go there again so I went with two other girls, Monika and Kathrin. Our itinerary was: Big Island (From Kaiula-Kona via the south coast to Hilo) to Maui (roundtrip) and then to Oahu (from Honolulu via the south coast to the north). 
---
Big Island
---
The Big Island had been our first stop. We flew into Kona and lucky me I had the window seat :). Not only could I get a glimpse of the Golden Gate Bridge when taking off, I also had a beautiful view over the chain of islands when landing. We explored Kona, a neat little city where they do the Ironman Hawaii and which is home to the famous Kona Coffee (so they say, I don't drink Coffee so I wouldn't know :)).
Kailua-Kona has a rich history and quite a few sights. We wandered around the town a little bit but on the day of arrival we wanted to drive further down south because I read in a travel guide about the Kealakekua Bay, where Captain Cook first set foot on the islands in 1778 and where he was eventually killed.  
Konas calm and clear coast is perfect for snorkeling, diving, sailing and spotting dolphins  -we didn't though :( -
Big Island offers beautiful beaches (white sand, green sand AND black sand - you choose, you get it!), lots of animals (we've seen turtles and thousands of fishes and birds, no dolphins unfortunately) and volcanic areas. Very diverse, very beautiful!
The Kealakekua Bay is located about 20 km south of Kailua Kona. It is the spot where the first documented European to reach the Hawaiian Islands, Captain James Cook, was killed. A Monument was set up and one can see a hole in the cliff where canon balls detonated. All my information about Hawaii I got from Andrew Doughty, who wrote guidebooks about all the main islands of Hawaii. They're not just very informing but funny as ***, so I HIGHLY recommend getting them if you ever make your way to Hawaii. 
Anyway - we wanted to go to the Monument by kayak (otherwise we would have had to book a tour with other tourists, bah :)) so we got a rental kayak for three on top of our car the night before. The next day we got up super early and went to the dock. Lucky us there were fishermen getting ready to head out so they helped us getting into the kayak because we would have been lost without them. Crossing the bay was fairly easy, it was calm and we were busy watching for dolphins - in vain unfortunately. Reaching the shore we had a problem though. We had to get the kayak on land so we jumped into the water and cut our feet and legs in the attempt. Only then did we realize there was a little dock as well. We had three options: 1. Leaving the Kayak where it was. 2. Getting into the water and over to the dock. 3. Going through the jungle. Of course...why easy when we can make it a challenge - we chose the way through the jungle and added some more scratches ;). Everything was worth it though for the most beautiful underwater world awaiting us. I've never seen such a spectacular little ecosystem and all was topped with the sound of singing male whales you could hear underwater. I will never forget those moments! 
Getting back was the next challenge we had to take on - the sea was a bit more rough than in the morning and we were afraid of getting crashed into the cliff. Thankfully the fishermen saved our lives yet again and got us out of the water. Adventure? Check!
After that excitement we decided to take it a little bit slower. Or at least that we wanted to do but it didn't work. The guidebook recommend leaving the paved road going to a stunning black sand beach. Of course we did that just to realize that our rental car might be not the most suitable car for going over cold and sharp lava. Thanks to Kathrins excellent driving (and the help of some locals :D) we got the car save back on the road. Next on the list was the "Papakolea Beach", one of only four green sand beaches in the world. It gets its distinctive color from olivine sand eroded out of the enclosing volcanic cone (tuff ring). We met a guy and his jeep called "Red Baron" and he took us the adventures path down to the beach. Our car wouldn't have survived this.
We spent the night at a Couchsurfers close to the Kilauea Volcano. She had a yoga resort kind of thing and it was very calm and relaxing. We had a quiet night in with cooking, wandering around the property (dense jungle, the perfect spot to wind down) and reflecting on the great day we had.
The next day we were close to the volcano anyway so we went for a hike right through an old crater. Part of the park was closed due to an recent eruption. On the way to Hilo we stopped at a black sand beach as well, enjoying the lunch right next to a bunch of turtles. In Hilo we stayed at a couch surfer again, a very cool old guy who was very helpful (providing all essentials, cooking together, driving us to the airport the next morning). 
All in all: Big Island is very diverse and beautiful :)
---
Maui
---
Although all three islands we visited where beautiful, Maui has been my favorite one. I fell in love with the beautiful beaches, the jungle, all the waterfalls, the picturesque villages and the friendly people. 
We rented  jeep and did a round-trip around the island. We've seen uncountable waterfalls (we even stopped and swam at one), jungle everywhere and right next to it the coast. Thanks to my guidebook we knew where to stop for great views or hidden beaches. In Maui we tried "Shaved Icecream" and spend some time with people from the hostel. Great few days in Maui!
The next day has been my favorite one throughout the trip. We decided on a whale watching tour at 4.30 a.m. (yes.. I know...middle of the night but it was worth it!). We were rewarded with a stunning sunrise and we've seen so many whales! The best was a mother coming up to the boat with her calf and we could have touched them. The stayed with us for a few minutes before heading off again. I've never seen whales that close so its been very special to me.  

---
O'ahu
---
O'ahu has been the last leg of our trip. Its the most touristy one due to Pearl Habour and Waikiki Beach. We explored the island by car, stopped at random beaches (he whole island is a beach it seems), went snorkeling, sightseeing (Pearl Habour is worth a visit for sure!), I got my first (and so far last) tattoo but the highlight has been Skydiving. I don't know why I did it...jumping out of a plane from 40.000ft? Am I crazy? Being on the ground I was excited, yes, but no scared. Getting into the plane was alright too. Gaining altitude was another thing and getting higher and higher I started to get reeeeal nervous! I was ready to say No, I'm not doing that, I don't want to die just yet! Randy, my instructor, went easy on me and pointed out the whales jumping out of the water saying "If they can jump, you can jump.". You can see in the video that I wasn't convinced at all, but I didn't have a chance to chicken out. There was one girl jumping before I did and I just saw her doing summersaults in the air. Oh boy...if Randy wouldn't have pushed me I would have stayed n the plane, believe me! But, it was freaking awesome! Seeing the islands from above, feeing the air, the excitement of falling...an unforgettable experience and I'm super happy I did it. Sit back and enjoy the video, make sure you see my eyes popping out before jumping :D
All in all has the trip to Hawaii been one of the best of my life. I experienced beautiful beaches (before that I didn't care much for them), I found a friend for life (Kathrin) and had encounters that were magical (wildlife, nature and locals). 
Until we meet again, beautiful Hawaii!