This picture means Nepal to me. It shows Sudip and me at the Pashupatinah Temple in the eastern outskirts of Kathmandu. I met Sudip in Australia and would have never thought that he'll take me to his home country. Well...he didn't literally take me but at least he invited me over while visiting his parents so thats practically the same :)
I'm very thankful that I got the chance to experience Nepal in a very unique way with my private tourguide. I've seen places I wouldn't have otherwise I guess, I interacted with people I couldn't have since I don't speak Nepalese and I stayed with his parents instead of fancy hotels or western orientated hostels. A trip like none other. 
---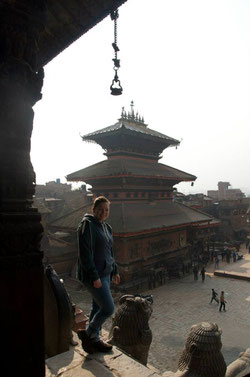 We started with Bhaktapur, which literally translates to places of devotees. It is an ancient newar city in the east corner of Kathmandu Valley. Bhaktapur was the largest of the three newa kingdoms of the Kathmandu Valley and had the best preserved palace courtyards and old city center in Nepal. I'm not sure if thats still true after the huge earthquake though. Bhaktapur is listed as a world heritage site by UNESCO for its rich culture, temples and wood, metal and stone artworks. I was impressed by the detailed craftwork, the little streets, all the little temples and statues. There weren't many tourists around by the time we visited so it felt like a very local experience :)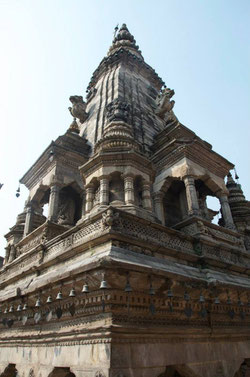 One of the most sacred Hindu temples of Nepal - Pashupatinath Temple - is located on both banks of Bagmati River on the eastern outskirts of Kathmandu. The temple is dedicated to the god Shiva. People arrive to meet death and the day we've been there, there was a huge ceremony for people being cremated on the banks of the river. They'll travel their last journey with the waters of the sacred river Bagmati, which meets later the holy river Ganges. Around the temples were a few Sadhus, who are wandering ascetic yogis. They try to acquire liberation from the circle of death and rebirth by meditating. They have a very unique appearance with specific yellow paintings on their bodies. I didn't know they are allowed possessions but there was this one Sadhu taking pictures with his digital camera. I couldn't resist but to snap a picture of him taking pictures :).
Around the temple side were dozen of monkeys and  remembered people warning me that they'll steal everything valuable. Thankfully all they did was playing and sometimes fighting within their own group so Sudip and I could wander the temple in peace. 
After the Pashupatinath Temple we visited the Buddhist stupa of Boudhanath.  Before it was  destroyed by the earthquake it dominated the skyline. The ancient stupa was one of the largest in the world. Along with Swayambhunath it is one of the most famous tourist sides in Kathmandu. 
You'll understand that after all that culture and history and everything we needed a well earned break. We decided on going to Pokhara, the second largest city in Nepal and located approximately 200km west of the capital. Three out of the ten highest mountains in the world - Dhaulagiri, Annapurna I and Manaslu - are within 30 miles of the city. Pokhara is dominated by a lake and when the weather is nice you're suppose to see the mountains on the horizon. We were lucky enough to spot none, yeah :(. It wasn't bad weather exactly but very hazy. That one day we got up very early to see the sunrise from top of a little mountain but it would have been smarter to stay in bed :D. Being up anyway we went for a hike through the mountains along two lakes, visited a bat cave and some waterfalls. After all it wasn't too bad in Pokhara :)
Next stop: Chitwan National Park. Formerly known as Royal Chitwan National Park, its the first one in Nepal. It was established in 1973 and granted the status of a World Heritage Site in 1984. Everyone recommend it and Sudip hasn't been there either so we thought its a good idea to check it out. We stayed at a little hostel close to the jungle. They had their own elephant - Bamboos Kali - and as cute as she was, captured elephants aren't treated nicely. She was in chains all day when she wasn't working and had no contact to other elephants. I even have to admit  and I feel ashamed about it - I acted like a stupid tourist there and even did an elephant ride. Being older and wiser now, I wouldn't do it again. 
During our jungle walk we spotted some wild life - crocodiles, deer, wild elephants, rhinos and a fresh tiger paw print. And of course, monkeys!
Being back in civilization we went to Swayambhunath near Kathmandu, one of my favorite sights. Swayambhunath is an ancient religious complex on top of a hill. It is also known as monkey temple as there are holy monkeys living in the west parts of the temple. It is probably the most sacred among Buddhist pilgrimage sites. For Tibetans and followers of Tibetan Buddhism, its only second to Boudhanath. 
The Swayambhunath complex consists of a stupa, a variety of shrines and temples, some dating back to the Licchavi period (will say: veeeery old ;)). A Tibetan monastery, museum and library are more recent additions. The stupa has Buddha's eyes and eyebrows painted on. Between them, the number on is painted in the fashion of a nose. There are also shops, restaurant and hotels. 
When Sudip and I got back from Chitwan he asked me if we want to stop there before heading back to Kathmandu. Not knowing what awaits me I was like yeah sure! There are two access points to the site and we've chosen the nicer one - 365 steps. No problem at all if it wouldn't have been for my backpack. I ended up being photographed myself as an attraction while going up the stairs being loaded like I want to go to the moon :)
According to Swayambhu Purana, the entire valley was once filled with an enormous lake, out of which grew a lotus. The valley came to be known as Swayambhu, meaning "Self-created". The name comes from an eternal self-existent flame over which a stupa was later built. 
The monkeys are holy because Manjushi, the bodhisattva of wisdom and learning was raising the hill which the temple stands on. He was supposed to leave his hair short but he made it grow long and had lice grew. It is said that he had the lice transformed into these monkeys. 
Manjusri had a vision of the lotus at Swayambhu and traveled there to worship it. Seeing that the valley can be good settlement and to make the site more accessible to human pilgrims, he cut a gorge at Chovar. The water drained out of the lake, leaving the valley in which Kathmandu now lies. The lotus was transformed into a hill and the flower became the Swayambhunath stupa.  
The last leg of our journey led us to Dolakha, a mountainous district in Janakpur zone, which lies in the central development region of Nepal. We spent two days at Sudips friends place, a local music school. His friends Dilu and Pranam were fun to be around with and they made our stay very special. 
Pranav took us with a motor cycle to Kalinchwok, a mountain from which one has a grand view over some mountains, for example the Gauri Sankar. This is the second highest peak of the Rolling Himal and is named after the Goddess Gauri and her Consort (Shankar). The mountain has two summits, the northern (higher) summit called Shankar and the southern summit being called Gauri. The first attempt to climb the mountain were made in the 1950s and 1960s but weather, avalanches and difficult ice faces defeated all parties. From 1965 until 1979, the mountain was officially closed for climbing. When permission was finally granted in 1979, an American-Nepalese expedition managed to gain the top via the West Face. This was a route of extreme technical difficulty. The permit from the Nepalese ministry of tourism stipulated that the summit could only be reached if an equal number of climbers from both nations were on the summit team. John Roskelley and Dorje Sherpa fulfilled that obligation. Just a little history ;)
In summary I can say that those days in Dolokha were special and the highlight of my trip.  I loved being close to the mountains, being away from the hectic city life of Kathmandu, experiencing the basic life of locals living there. Another reason I enjoyed my stay there so much was probably that guy I fell in love with. On first sight. There was just nothing I could do about. Here he is: