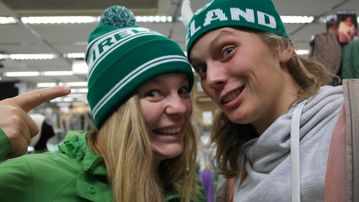 This is Anne and me. On the picture we're still looking fresh and motivated and ready to go. We stayed like that throughout the whole trip...we might have not looked like it for long though ;). 
This has been the first trip I did with someone from the start till the end instead of meeting along the way and going a few steps together. It was quite a new experience but a very good one, thanks to Anne. She is a very easy going girl, has a great sense of humor and knows how to set up a camp fire. What could I ask more for :). I enjoyed it even that much that we decided to travel again in 2017 to Morocco! 
---
I have to admit - when I decided I want to go hiking through Ireland I never went for a longer hike than 30km. I had no idea what to expect and I asked myself quite a few questions:
how does walking 150 km feel

will I be fit enough carrying  my backpack with all my essentials the whole trail

should I go on my own or with someone

how much planning should I do beforehand
setting up the tent along the way or booking hostels
and so on
As you can tell...I had no idea what I was getting into. Good thing is - Anne didn't either hence why she made a great companion :). She was happy for me to do as I liked, choosing the trail and planning it all out (she didn't realize I'm not big into planning either ;)). We ended up taking a flight to Dublin in Mid-August without knowing which trail to go. A lot of people recommend the South-East Coast of Ireland but we wanted to be more flexible in case we wouldn't be able to do the whole trail so we decided on the Wicklow Way. Easy going as we are we started with a day of sightseeing in Dublin, enjoying the city and exploring the nightlife with no care in the world. Dublin is a busy little city with lots of old buildings and a nice bar area (Temple street). I recently read a book that was set in Dublin in the 1960's and it was easy to imagine the Dublin back then. All in all - a city where you can spend a nice weekend :)
---
itinerary Wicklow way
Day 1, Friday
Day 2, Saturday
Day 3, Sunday
Day 4, Monday
Day 5, Tuesday
Day 6, Wednesday
Day 7, Thursday
Taking the bus to Kildavin, walking to Clonegall, easy walk along  a road to reach the official starting point of the Wicklow Way
Clonegall to Shillelagh, along the broad valley of the Derry River
Shillelagh to Tinahely, along country road through gentle sloping hills
Tinahely to Ironbridge, around the Coolafunshoge Mountain and past Moyne down towards Iron Bridge
Iron Bridge to Laragh, steep hill to the Borenacrow Saddle, via the Spink towards Glendalough
Laragh to Enniskerry, up and down the hills to Oldbridge, Option to hike up the Mountain Scarr
Enniskerry to Marlay Park, Crossing Prince Williams Seat  and the last hills before arriving in Dublin
4 km
20 km
15 km
21 km
29 km
29 km
22 km
---
Day One (Friday) - Arrival in Kildavin
---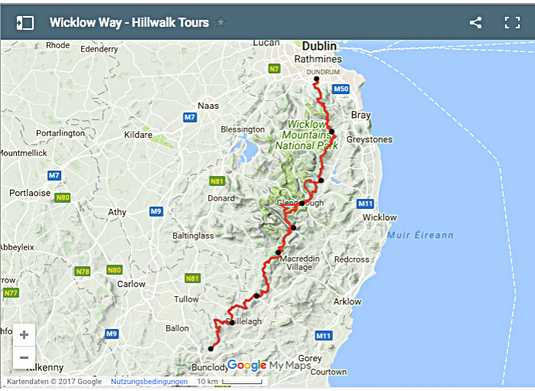 And then we started our little adventure. On Friday we took a bus down to Kildavin, the nearest town to Clonegal, where the Wicklow Way starts/ends officially (apparently most people start hiking the Wicklow Way from north down south, we did it the other way around). Did I mention that we didn't have a map or anything? Well..we didn't. No surprise since we haven't decided on the route until the night before :). 
The plan was to start the first leg of the journey on Saturday morning of approximately 20km. So when we arrived in Kildavin all we wanted to do was finding a spot to set up the tent. Finding a suitable place wasn't as easy as we thought though. One is allowed to camp wild in Ireland but not within an enclosure. Unfortunately there were no open fields or anything so even we didn't want to we had to walk the first few kilometers until we found a lovely meadow at the edge of a forrest. We were lucky enough to see a rainbow while setting up the tent and having dinner and ended the day with a game of cards. Anne taught me a new one called "Bibertanz" (at least I think that was the name) and I love it.
Since we already walked past Clonegal we decided to hike until Tinahely on Saturday, combining Day 1 and 2 from our Itinerary. And with this decision we did a little video diary and were ready to go to sleep. 
---
Day 2 (Saturday) - Clonegal to Tinahely
---
Saturday morning started with breakfast (cereal with water, a bit weird but tastier than I thought). Than we packed our stuff and were ready for our first proper hiking day. For me, this was the least exciting part of the Wicklow Way. We walked approximately 25km through sloppy hills, meadows and along the roads. The views weren't as spectacular and the hike not very demanding. We got used to our backpacks, took some breaks wherever it suited us and met some sheep along the way. The official Wicklow way doesn't go through Tinahely but we needed to get some gas for the stove and some food so we took the detour. Smart as we were we ask some fellow hikers about the best way to take and they showed us the direction. It didn't take long for us to realize that it might have been the shortest way but definitely not the easiest. The hill we had to conquer was the steepest yet and after hiking 25km already it was quite a task. The view was a nice reward and the hike downhill gave us another heart race because there were no paths we could use so we went across country running away from the farmer plowing his field. Reaching the street in one piece Tinahely was still a few km away. Lucky us a woman stopped and gave us a lift so we didn't have to walk. In the town we grabbed a bite to eat (unfortunately they didn't have the right gas so we couldn't use the stove) and then the search for a spot for the night started again. And to no surprise - we couldn't find one. We walked and walked and walked and we weren't even sure if we were walking towards the Wicklow Way (we still hadn't had a map)...You can imagine how happy I was as we found a hilly spot that was the best place we've seen for the past hour. We had a nice view over the hills, took a last picture with our signature move and went to bed :).
---
Day Three (Sunday) - Tinahely to Ironbridge
---
The sunday started quite adventurous. When we got out of the tent in the morning we were surrounded by sheep. We didn't realize when choosing the spot that it was right in the middle of a pasture. Sheep are cool but the cows in the neighboring field were scaring Anne. How did she call them? Monster cows it was I think. A bit funny I have to admit but nevertheless did we speed up our morning routine so we could leave the cows behind :). 
What followed has been my favorite morning of all. We walked through a field of fern and got greeted by a herd of horses. The way they came out of nowhere, the fog around them, the morning mood - everything was perfect. It took me quite some effort to continue walking. 
The weather cleared up and we left the civilization behind us, just an occasional house here and there. The final destination for this day has been Iron Bridge. We had a look on a map from hikers we met along the way and knew there would be a mountain hut coming up. So we stopped at the little stream, took a dip in the icy cold water, washed our clothes and set off to find the hut. Just three km but like the day before it was the steepest part of the day and reaching shelter has been a great release. Anne knew how to set up a camp fire so we could have some rice for dinner. The hut was built on a clearing so we had a great view over the surrounding area and were glad to have a solid roof for the night.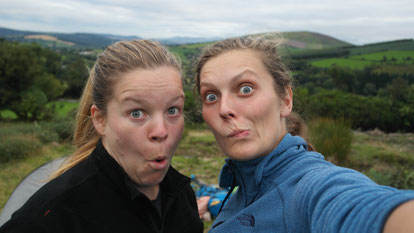 I'm talking and talking and talking...maybe you'd  like to read what Anne has to say to all this! Thats why I decided to do a little Interview with her :)
Here we go:
Judi: Hey Anne, because some people might not know you: please introduce yourself using three words - one starting with a "H", the second with a "V" in the middle and the last one ending with a "D". 
Anne: Hilarious, Lovely, Stupid (maybe I should have chosen the letters wiser...)

Judi: What was your motivation for going on a trip with me and why Ireland?
Anne: With such a crazy person it had to become a crazy trip - It happened as I thought. You asked me to join you on a hiking trip and I thought - Why not?
Judi: How did you get prepared?
Anne: I'm always prepared for everything! (Judi: Sure...;))
Judi: Whats been the funniest/scariest/most memorable thing on the trip?
Anne: Too manny. Maybe the crazy cows who tried to break through the fence to kill us while we were sleeping in the tent. And Judi was just laughing at me! But the cows looked reeeeeeeally scary! The most memorable moment has been when we arrived at the hut, actually it was just a roof, but we could dry all our clothes. Then we cooked our dinner over the fire, had an awesome view and just enjoyed the moment. 
Judi:Have you seen any wild animals?
Anne: Yeah sure! The dangerous cows!, horses, some deer, rabbits...
Judi: If you could do the same trip again, would you do something different? Whats your advice for other traveler?
Anne: My advice is to pack clothes and a sleeping bag thats warm enough, inform yourself how to handle dangerous animals like cows, enjoy whatever you do and talk to as many people as you can. 
---
Day Four (Monday) - Ironbridge to Laragh
This part has been my favorite one nature-wise. Unfortunately Anne didn't feel too well so we couldn't appreciate the surrounding beauty as much as we should have. The hike was strenuous yet rewarding because even though we had to go uphill the whole day (well, not really ALL the way but it felt like it ;)) I loved the landscape, the sloppy hills and the view from the top. We met some sheep and some deer and a few people for the first time. Laragh is a tiny village at a lake and the locals as well as tourists were taking a dip in the refreshing water. Since we didn't have a spot for our tent yet we had to keep going. We refilled our water bottles, got an ice cream (we earned that one, really!) and started looking. It took foreeeeever but in the end we decided on a little hilly meadow. Ive been really proud how Anne fought her sickness and kept going until the evening so we were just glad to have found a place.
After a quick meal we went to sleep right away. At least Anne did - I couldn't . Not that I haven't been tiered but the meadow was slightly sloppy and I had the feeling to roll on Anne, I just couldn't relax. It was warm as well and...anyways...I grabbed my sleeping bag and my mattress and slept under the open sky. As you can imagine, it was perfect :)! Nature, Stars, my comfy sleeping bag...Waking up in the morning all wet because of the dew wasn't as perfect anymore but it was worth it :)
---
Day Five (Tuesday) - Laragh to Enniskerry
---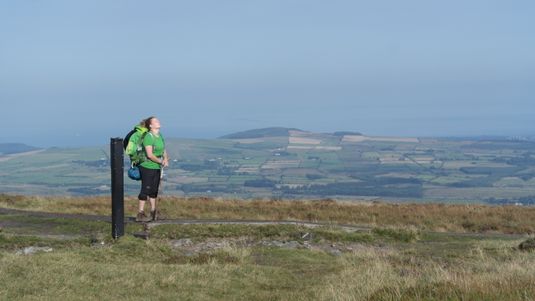 Tuesday has been a special day within the trip because Anne introduced me to my Irish Man, Fritzy. It was love on first sight even though I knew we had to part at the end of the trip. But let me start at the beginning. 
First of All - Anne felt better. A big relief because otherwise it would have been the end of our trip probably. We started refreshed and even the steep ascent didn't bother us too much. We passed some lakes, hike through the highlands over the mountain Scar, seen lots of sheep and took tons of pictures (can you spot Fritzy in the picture to the left?).
We were well behaved so no major incident happened and theres nothing much to tell about this day. 
We've met many follow hikers but they were just doing either day trips because the "Scar" Area was beautiful and not too far away from Dublin or Hikers that were doing the Wicklow Way from North to South. 
The camp spot we found that night has been my favorite. We didn't make it to Enniskerry but found a little stream so we could wash ourselves and our clothes and set up a fire. The day ended with a beautiful sunset - another perfect day!
---
Day Six (Wednesday) - Enniskerry to marlay Park
---
Last day! Unbelievable that we really walked 140 km. Our last day was strenuous - knowing we were almost there and expecting the skyline of Dublin, it was somehow disappointing not seeing it hill after hill. The trail wasn't as pretty anymore, we walked on country roads again and it rained half the day. But still, I enjoyed it as much as all the previous days. Reaching Marlay Park we were desperate to find the Start/End point but you know what? We couldn't find it, unbelievable! Therefore we have no proper picture form the finish line :(
We took the bus into Dublin where I had to say Goodbye to Fritzy. It was hard. I left him in the hostel and I hope he gets to hike the Wicklow Way (or any other trail in Ireland) again. 
---
Goodbye ireland - a day at the beach
---
Because we finished the Wicklow Way earlier than expected we decided on a trip to the sea. The weather wasn't the best but it didn't bother us. We enjoyed our stay in a nice hotel (after a week in a tent definitely relaxing!), some proper food and of course the water. 
With that our time in Ireland ended. We've had a great time together and it won't be the last time Anne and I are going on a trip together. 
In saying that - Morocco 2017 here it goes!
---